InvestorPlace – Stock Market News, Stock Advice & Trading Tips
With this crypto market meltdown we've seen in 2022, the hunt for cheap altcoins to buy is on.
Indeed, demand for altcoins — those not named Bitcoin (BTC-USD) or Ethereum (ETH-USD) — has remained high. Many smaller-cap tokens have outperformed their mega-cap counterparts during the last bull market, which ended in Q4 of last year. Accordingly, for those betting on the next bull run, these altcoins are ones to focus on .
However, with thousands of options to choose from, investors may rightly get lost in the fray. Where to start is the key question many have. And with so many trading at penny valuations, it's hard to determine which beaten-down projects have real upside potential, and which are cheap for a reason.
That said, there are a number of blockchain projects that have become intriguing at these lower valuations. Some penny cryptos possess the potential for excellent long-term returns at these levels.
Here are three such options I think are worth considering in this environment right now.
Cheap Altcoins to Buy: Decentraland (MANA-USD)
Source: Lichi / Shutterstock.com
Created in 2017, Decentraland (MANA-USD) is a virtual reality metaverse game based on the Ethereum blockchain. Its native cryptocurrency, MANA, powers the network. Users can utilize tokens in this marketplace to purchase various in-game items, such as avatars, names, wearables and more.
Given the ebb and flow of interest around the metaverse as a long-term growth investment, MANA has been a volatile token. Last year, this token hit fresh highs on the back of bullish sentiment. However, with sentiment deteriorating lately, it has sunk to just under $1 per token at the time of writing.This compares to a high of nearly $6 per token late last year.
As more and more high-profile corporate and institutional investors look at the metaverse as a place to invest, Decentraland could be a big winner in the next bull run. This project's expansive marketplace, providing buyers and sellers a place to interact and engage in commerce At less than $1 per token, I think this token may be worth a speculative buy at these levels.
Cardano (ADA-USD)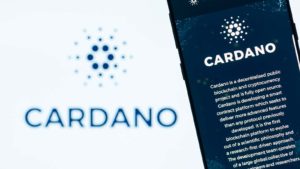 Source: Grey82 / Shutterstock.com
Launched in 2017, Cardano (ADA-USD) is one of the "old guard" in the crypto world. It's kind of laughable to think of a five-year-old project as a "veteran" in any space.
With a valuation of nearly $17 billion, Cardano is actually a top-10 project in terms of market capitalization.Accordingly, this isn't some small-time penny crypto to buy, despite trading at a price of around 50 cents per token at the time of writing.
Cardano's key investment thesis is relatively simple. One of the oldest smart-contract-enabled proof-of-stake blockchains, Cardano's ecosystem has grown by leaps and bounds in recent years. Whether it's decentralized applications, new tokens, games or other projects aligned with this blockchain, there's a lot of activity spurring investor interest.
However, among the key reasons many focus on Cardano is this project's light carbon footprint. Via its proof-of-stake consensus mechanism, and other carbon-offsetting projects such as Cardano Forest, which planted more than 1 million trees, Cardano has become an eco-friendly blockchain in a world that's increasingly concerned about the environmental impact of crypto mining.
Cheap Altcoins to Buy: XRP (XRP-USD)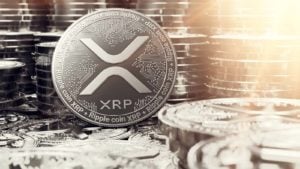 Source: Shutterstock
Among the more interesting crypto projects to make this list is XRP (XRP-USD). Trading at less than 40 cents per token, XRP is also a penny token.
Launched in 2013, XRP is approaching decade-long status in the crypto world. For any cryptocurrency, that's quite a feat. XRP has maintained its relevance over the year due to Ripplenet, a product of XRP's parent company, Ripple.
Ripplenet allows institutional and corporate clients to engage in cross-border transactions at a fraction of the cost of the traditional banking system.Accordingly, for those looking for a real world use case for crypto, XRP provides such a thesis in spades.
This project has been hit by lawsuit concerns, given the US Securities and Exchange Commission's (SEC's) focus on XRP as a security. Like other cryptos that have been targeted by the SEC of late, this has created volatility. However, XRP's case appears to be stronger of late, according to various reports covering this case.
Should XRP emerge victorious in its spat with the SEC, this token could be a runner. Accordingly, this is a penny crypto investors may want to keep on their watchlists.
On the date of publication, Chris MacDonald did not have (either directly or indirectly) any positions in the securities mentioned in this article. The opinions expressed in this article are those of the writer, subject to the InvestorPlace.com Publishing Guidelines.
The post 3 Cheap Altcoins to Buy If You're Looking for Penny Cryptos appeared first on InvestorPlace.
The views and opinions expressed herein are the views and opinions of the author and do not necessarily reflect those of Nasdaq, Inc.