Crypto bets: A report from inside the online gambling industry has shown that more people are starting to use crypto to gamble online, forgoing fiat. And there is a greater interest in betting with altcoins.
Over the past 2 years, gamblers using crypto online instead of fiat has significantly increased. This is according to a recently released new report, confirming the growing adoption of cryptocurrencies.
The study comes from Softswiss, which provide software for managing iGaming operations. The organization holds several gaming licenses, and in was the first company in the world to offer a Bitcoin-optimized online casino solution.
The report shows comparative data for the 1st quarter of 2021 and 2022. This is based on the results of their game aggregator and casino platform.
Crypto bets: Double the growth
Global trends show growing popularity of crypto, and in parallel, this is also true for crypto gambling. The sum of bets in digital coins, accruing to the report, in Q1 2022 more than doubled compared to the same period in 2021. In fact, it has grown by 116.7%.
Andrey Starovoitov is COO at Softswiss. "Crypto gambling has become an independent, full-fledged, and extremely promising line of business. Brands adapted to these conditions have an advantage such as wider opportunities for operation and, accordingly, a wider audience."
Crypto and fiat currencies bet share
While crypto bets are becoming more popular, fiat is still the most popular choice for online betting. 64% of people still use fiat. However, cryptocurrency use is steadily growing. Says Softswiss, "Compared with the same period last year, the share of crypto in Q1 2022 increased by almost 10%: from 26.3% to 35.9%. In comparison to the first quarter of 2020, the share of cryptocurrencies has grown by 29%. If such dynamics continue, the share of fiat and cryptocurrencies may become equal over the course of the next year. "
Top cryptos used
Bitcoin has been the preferred crypto since online betting began. However, time are changing. There was a decrease in its share in Q1 2022 by 10 percentage points. Says Softswiss, "This is related to the growing interest in Ethereum and Litecoin, the top altcoins. Their share has increased by 3.45% and 2.95% respectively. "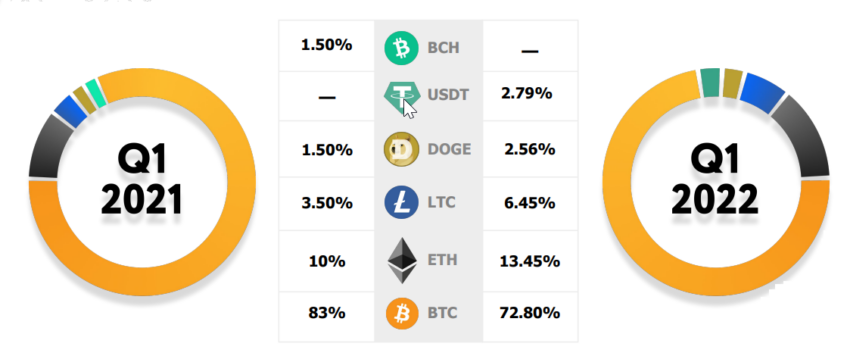 Starovoitov said, "Bitcoin will still be the leading cryptocurrency for deposits in the near future. However, the strong growth of other altcoins demonstrates the interest in more advanced coins in terms of technology such as Ethereum. More players will prefer to diversify their funds with other cryptocurrencies. This is a positive trend related to the development of the market. "
Crypto bets in 2022: What to expect?
In line with the above results, it is predicted that cryptos will be showing growth, but with changes in terms of coin share. Starovoitov says the significant trend will be the diversification of cryptocurrencies used for betting.
"The stronger regulation of traditional casinos will also attract new operators to the crypto niche. We'll see active growth in this segment as most current leaders will join the niche. We can highlight what you need to launch a successful crypto project based on our experience: crypto processing such as Coinspaid, crypto exchange services, and the in-game currency conversion for a wider selection of game content. However, new needs are already emerging. For instance, using NFTs to gamify the player experience and build a community of like-minded people around online casinos. "
Got something to say about crypto bets or anything else? Write to us or join the discussion in our Telegram channel. You can also catch us on Tik Tok, Facebook, or Twitter..
Disclaimer
All the information contained on our website is published in good faith and for general information purposes only. Any action the reader takes upon the information found on our website is strictly at their own risk.