Armand Sirignan
Second Largest Cryptocurrency Market Leading Market As Bitcoin Prepares For Interesting Moves Next Week
By the weekend, the cryptocurrency market had returned to green value, with prices of the biggest assets on the market showing positive dynamics, with even greater potential next week.
Ethereum Leads Market Top 10
Following the release of Arthur Hayes' Medium article where the creators of the Bitmex derivatives trading platform predicted that Ethereum will hit $5,000, the price of the market's second-largest cryptocurrency has increased by almost 10% over the past 24 years. reached a local high of $1,724. time.

Hayes provided different scenarios where the price of Ether could reach new highs. The main reason behind the new rally is the successful implementation of the Merge update and the reversal of the Fed's hardline stance.
For the aforementioned reasons, digital currencies of all kinds are most likely to rise given the risky and volatile nature of this type of asset. The Federal Reserve's actions have directly impacted the digital asset market. This hit hard after institutional investors began to massively exit the industry due to lower demand for risk exposure.
Bitcoin looks promising
The market has broken below the $23,000 price threshold this week as the first cryptocurrency faces a seven-day streak of losses. This could be a sign of an upcoming plunge. Luckily, the Bitcoin bulls weathered the surge in selling pressure and left BTC in a local uptrend.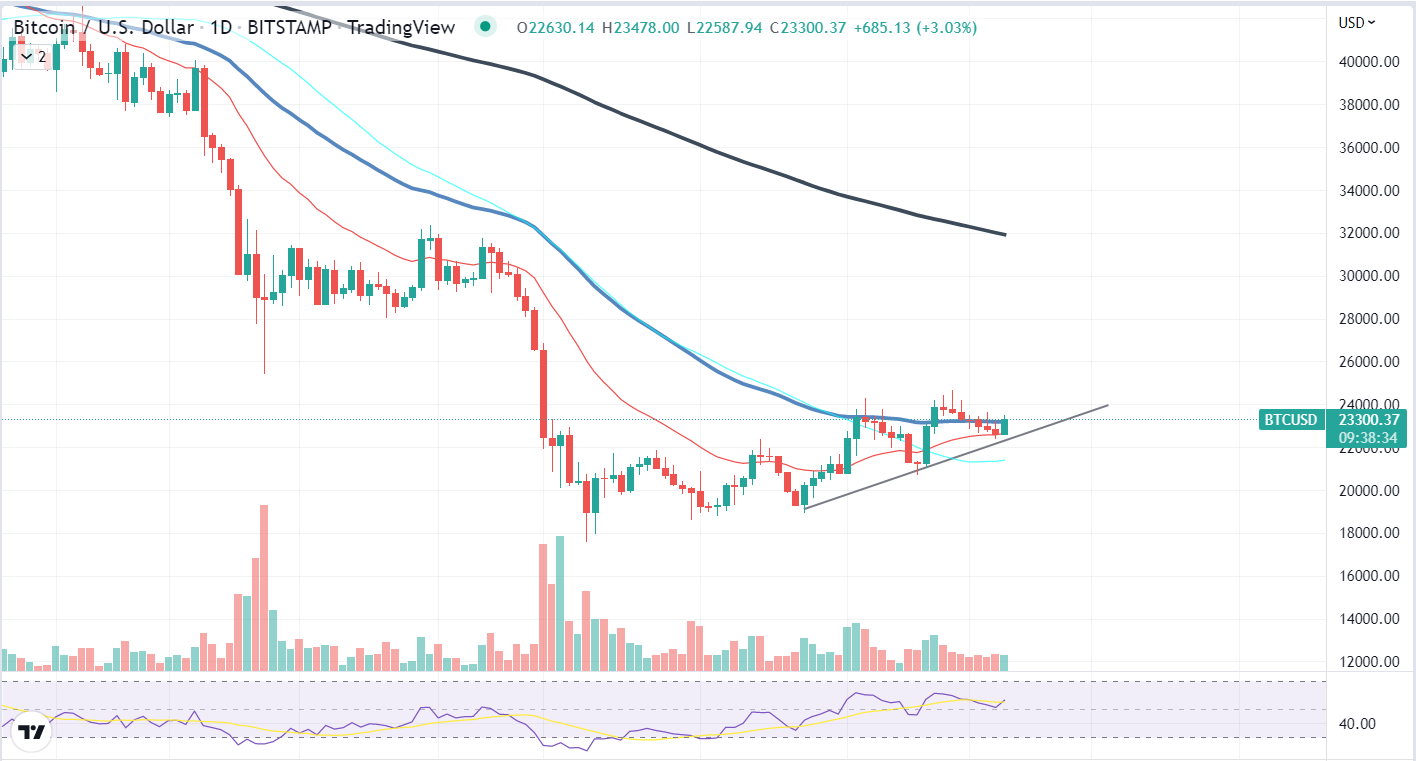 This week, Coinbase announced a partnership with Blackrock, signing a deal to provide crypto access to the fund's clients. This will surely attract millions, if not billions, of trading volumes to the digital asset market.
After the news was released, Coinbase's stock price soared by nearly 70%, with unusual volatility halting trading. The Bitcoin and cryptocurrency market has also benefited from this news, with the market seeing increased trading volume and purchasing power for Bitcoin and other cryptocurrencies.
Market Potential Risk Factors
The only risk factor we can see right now is the US dollar's recovery against the foreign currency bracket as the DXY index hits local support levels for the 50-day moving average.
A US dollar rally is not good for assets such as Bitcoin and gold. When the US currency is showing strength in the market, investors invest in safer options rather than assets denominated against the US dollar.
At the time of writing, DXY is hovering around 106.6 and Bitcoin is trading at the $23,000 levels.