Bitcoin prices are showing signs of rising to $ 35,000 at the beginning of the new week.
Ethereum prices could rise 22% to $ 2,541, following BTC.
Ripple prices face multiple hurdles that could curb its bullish momentum.
Bitcoin prices have been rising around the base of the range for quite some time. However, the formation of the Monday range shows that it is likely to rise in the coming days. Investors can expect Ethereum, Ripple and other altcoins to do the same.
Bitcoin prices offer a bullish opportunity
Bitcoin prices are still navigating in the range of $ 29,700 to $ 32,627. The lows have been wiped out, but it seems unlikely that they will rise cooperatively as Monday's highs and weekly openings match at $ 31,268.
Investors will have to wait for Monday's low of $ 29,027 to sweep to consider BTC's long-long. On the other hand, if BTC penetrates and reverses Monday's high of $ 31,268, it reveals stronger beliefs among buyers, suggesting a more likely rally.
In such cases, Bitcoin prices may initially retest the high range of $ 32,676. Clearing this hurdle opens the way to $ 34,752. Investors can expect BTC benefits to be limited to $ 35,000.
BTC / USD 2-hour chart
A definitive candlestick below $ 28,500 without a quick recovery indicates that the bulls are weak and invalidate the short-term bullish thesis. In such cases, BTC may reconsider $ 26,802 before reassessing the directional bias.
Ethereum prices lag behind BTC
Ethereum prices are stable above the $ 1,986 support level, consistent with the lower bounds of ascending parallel channels. Depending on how Bitcoin's price is unraveled, ETH prices will rise from here, increasing the likelihood of retesting the $ 2,199 hurdle.
From an optimistic point of view, Ethereum's price could overturn the aforementioned barriers and implement a $ 2,541 blockade, reaching a total of 22%.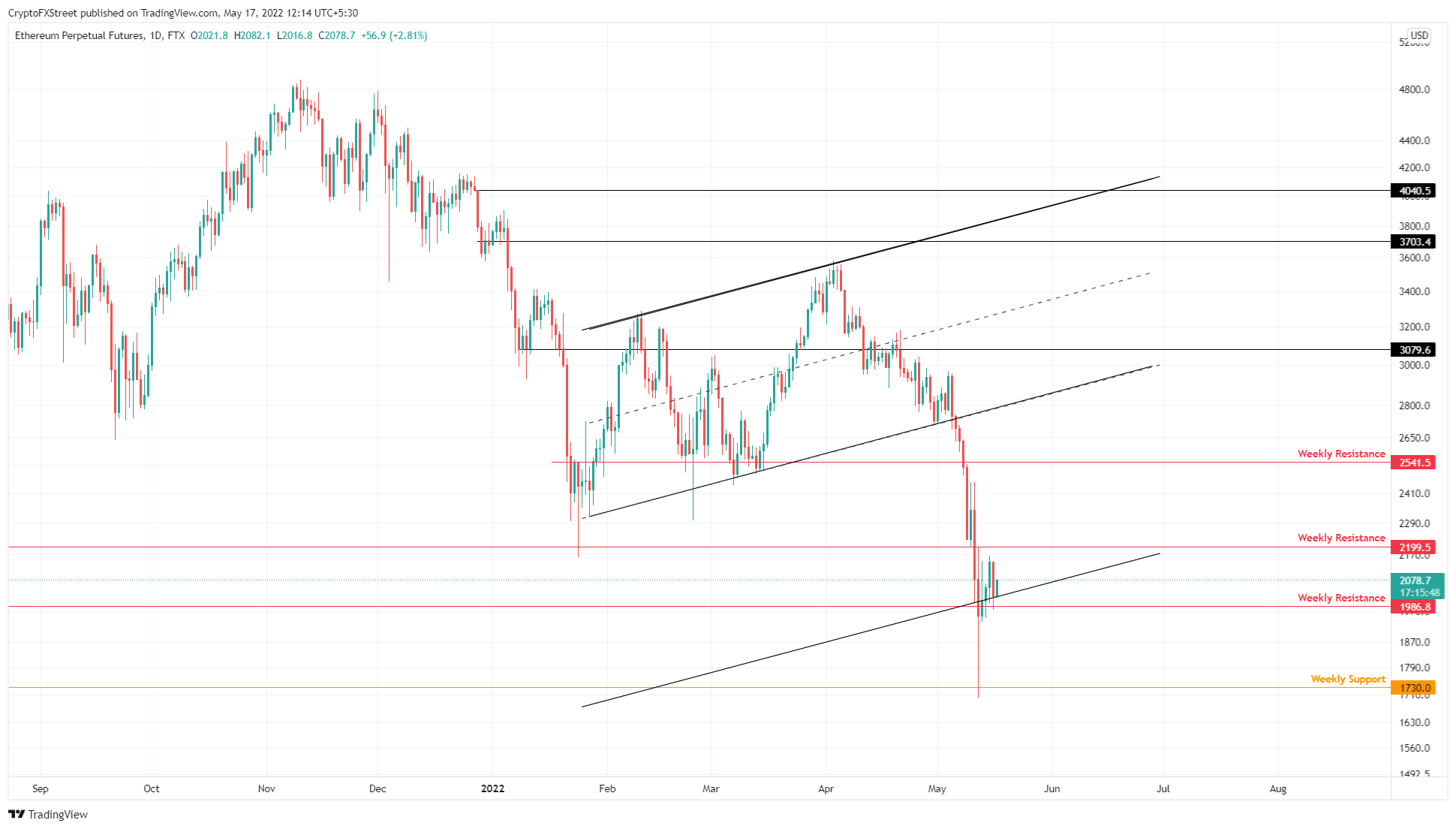 ETH / USD daily chart
On the other hand, if the price of Ethereum does not exceed the $ 1,986 barrier, the lows will be lower and the seller will be in control. In such cases, ETH can crash 13% to $ 1,730.
Ripple prices are facing a difficult battle
Ripple prices have fallen below the trend line, which dates back to March 2020. The recent rise in XRP prices has been unable to push Ripple prices any further, indicating the existence of resistance barriers.
Unlike Bitcoin, which is in a good position for the uptrend, the Ripple price needs to overcome the sloping resistance barrier to retest $ 0.509. If this move occurs, it will be a 17% increase ($ 0.434) from the current position.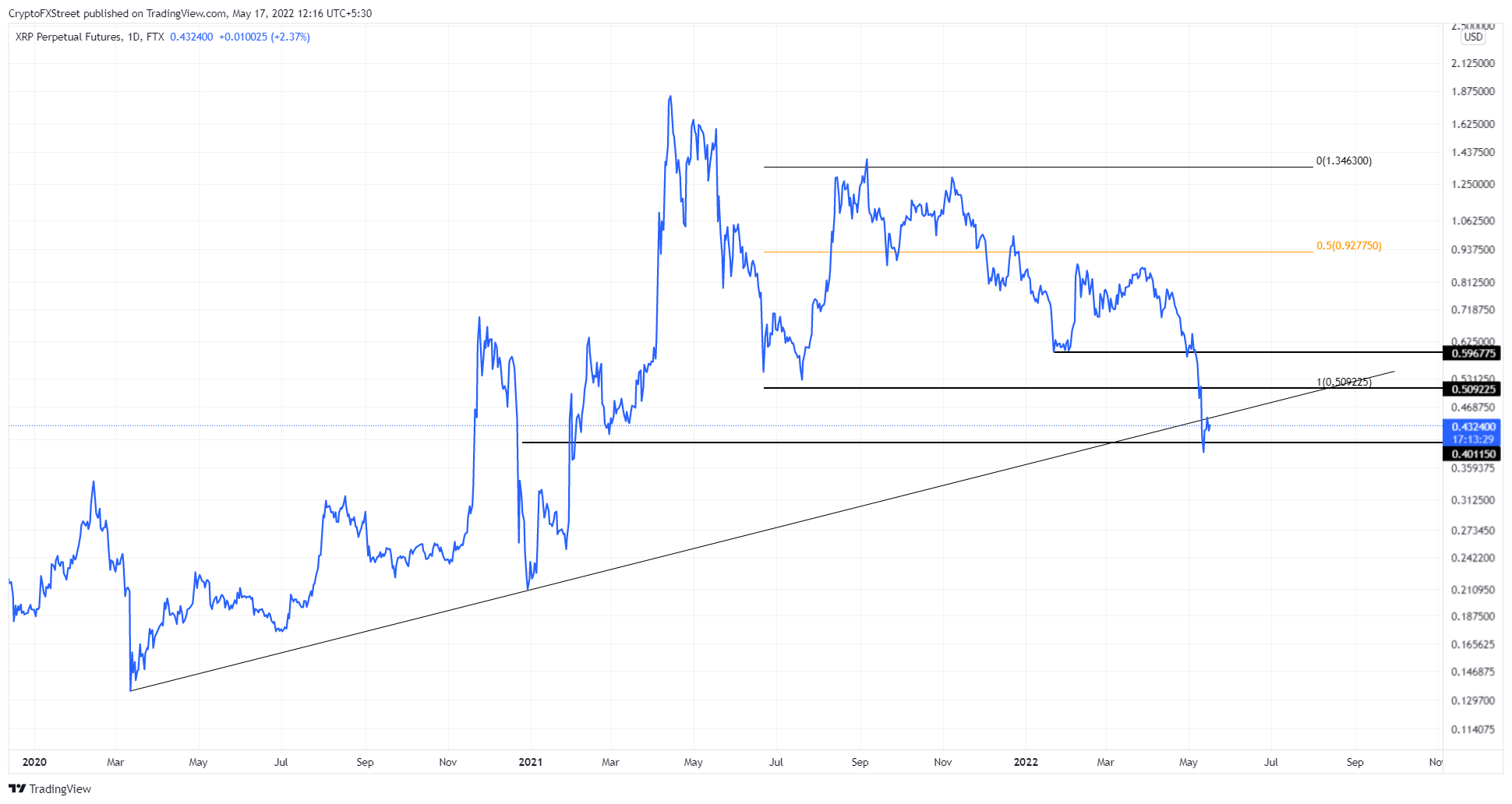 XRP / USD daily chart
Regardless of the bullishness, a refusal on a sloping resistance barrier can reduce the Ripple price to $ 0.401. The surge in selling pressure that turns this support floor into a resistance barrier creates lower lows and invalidates bullish papers.
With such developments, the transfer token could crash by 17% and retest the immediate support level of $ 0.336.
..