Johnnie Walker gives fans to own a series of exclusive NFTs.
The world's number one Scotch whiskey brand has entered the field of digital art, offering extremely rare whiskeys combined with seven digital arts and an exclusive VIP experience. The Johnnie Walker Masters of Flavor NFT is the result of a partnership between BlockBar, the world's first consumer NFT marketplace for fine wines and spirits, and renowned graphic artist Boss Logic.
Seven whiskey enthusiasts will have the opportunity to own a very rare bottle of the 48-year-old Johnnie Walker Masters of Flavor NFT, along with their own digital art, and access the exclusive branding experience in Scotland.
Digital art
The token unlocks access to unique graphic designs by artist Kode Abdo, also known as Boss Logic. Famous artists are known for their fancasts and have created the largest movie posters in the last few years. More recently, he has worked with soccer player Lionel Messi to create a new series of artistic NFTs featuring icons of global sports.
BossLogic states: Element alchemy. Generational taste. We are proud to introduce you to this "once-in-a-lifetime" collection of seven unique works of art. Each piece is a unique celebration of the soul of life, paired with seven rare bottles of 48-year-old blended scotch whiskey.
experience
Associated with each bottle is a one-time, once-in-a-lifetime trip to Johnnie Walker Prince Street, the brand's visitor experience in Edinburgh, Scotland. There, Johnnie Walker and the national whiskey making culture.
Staying in the palace-like Glenkinchie Townhouse, NFT owners tour the iconic Glenkinchie Distillery, which plays an integral role in the production of Johnnie Walker whiskey, and take a guided tour of the Diageo Archive. Enjoy VIP tasting of the rarest and most collectable whiskey only from the Diageo collection.
whisky
The Johnnie Walker Masters of Flavors are made from instant and rare whiskeys (all aged for at least 48 years) from four "ghost" distilleries: Port Dundas, Blora, Glen Alvin and Glennley Royal. Housed in a hand-blown green baccarat crystal decanter, beautifully decorated in a handmade wooden cabinet.
This incredible blend is truly excellent for masters of the art of whiskey making, combining a generation of Scotch knowledge and craftsmanship with malt, distillation, barrel aging and, of course, blending expertise. Shows how to create.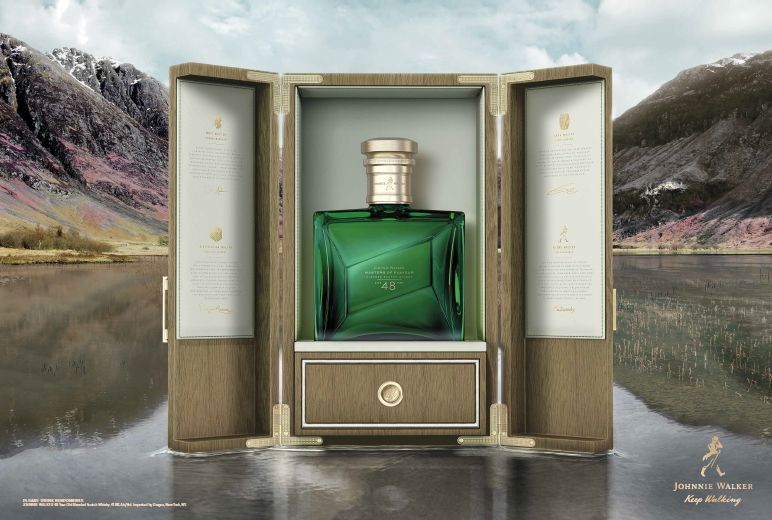 According to Johnnie Walker Global Brand Director, Julie Bramum Johnnie Walker Masters of Flavor NFT puts the brand at the forefront of what whiskey can do, making it truly unique to whiskey lovers and collectors around the world. ..
The Johnnie Walker Masters of Flavor NFT is already on sale on a first-come, first-served basis. Priced at $ 35,000, the Johnnie Walker Masters of Flavor NFT can be purchased with ETH or fiat money.
Avid buyers should enter the BlockBar.com lobby. To enter the lobby, each participant must have $ 35,000 in an Ethereum-based wallet connected to the site or be pre-approved if paying by wire transfer.
Successful checkout users will also be given the opportunity to transfer their Boss Logic artwork NFTs to their wallet and take advantage of the Scottish experience.
(Image: Johnnie Walker)