Bitcoin prices are trading in the range of $ 18,600 to $ 20,922 and there are no signs of a breakout.
Ethereum prices are far more optimistic than BTC's pricing behavior, suggesting they could rise to $ 1,425.
Ripple prices seem to be planning a 20% move to $ 0.386, but buyers haven't appeared yet.
Bitcoin prices have been very boring in recent days and have also curtailed Ethereum and Ripple performance. However, things can change quickly if you realize the volatility that big cryptocurrencies are in great need of.
Bitcoin prices remain undirected
Bitcoin prices are capped at around $ 22,500 due to high time frame resistance levels and a 200-week simple moving average (SMA). With a lower time frame outlook, BTC is working on a second quarter opening at $ 19,943.
There is likely to be a minor uptrend to clear the $ 20,922 range. Investors should note that this level is within the 4-hour supply zone and ranges from $ 20,681 to $ 21,194. Therefore, refusal is the most likely result.
Therefore, market participants need to prepare for a 9% drop that will dominate Monday's low of $ 19,032. In some cases, BTC could slide down and sweep down the range at $ 18,600. But don't be surprised if this downtrend continues until you retest the June 18 low of $ 17,578.
BTC / USD 2-hour chart
Daily candlesticks over the $ 21,705 hurdle suggest that the Bulls are vying for recovery while things are looking for Bitcoin prices. In such cases, BTC may rise higher and retest the $ 22,500 resistance barrier.
Ethereum prices will rise soon
Ethereum's price bounces at $ 1,081 midway between $ 878 and $ 1,284, indicating that the Bulls are still in control. However, if the buyer pushes ETH high and doesn't shine here, the seller will take over immediately.
Investors can expect ETH to rise to $ 1,284, allowing market makers to collect buy-stop liquidity above this level. In some cases, this move can be even higher, bridging the fair value gap, also known as inefficiency, and expanding up to $ 1,425.
This rise constitutes a 25% rise in Ethereum prices.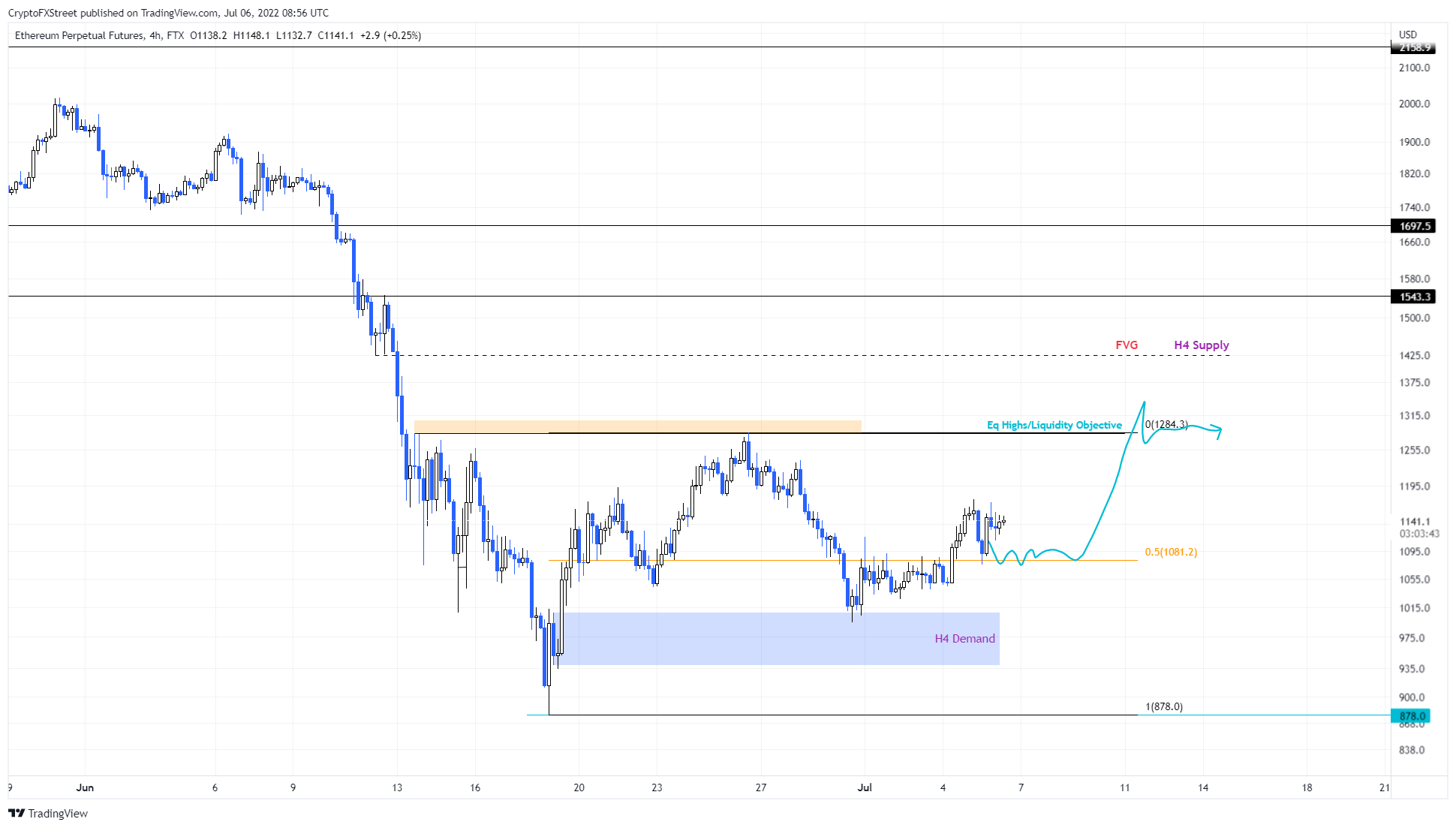 ETH / USD 4-hour chart
Regardless of the bullish outlook, if Ethereum's price produces a 4-hour candlestick below the $ 878 barrier, it reverses to resistance levels and invalidates the bullish theory. With such developments, ETH could crash to the next level of support of $ 700.
Ripple price action remains boring
Ripple prices have fallen below the midpoint in the range of $ 0.286 to $ 0.386. Interestingly, the seller has pushed the remittance token into a significant discount mode in the range of $ 0.307 to $ 0.324.
This area is where reversals tend to occur in different markets and where XRP prices are about to go. However, from the appearance, it seems that the bullish momentum is not enough so far. Therefore, if the price of Bitcoin soars, Ripple can follow.
In such cases, the XRP price is likely to target the high $ 0.386 range, as well as the liquidity of underbuying.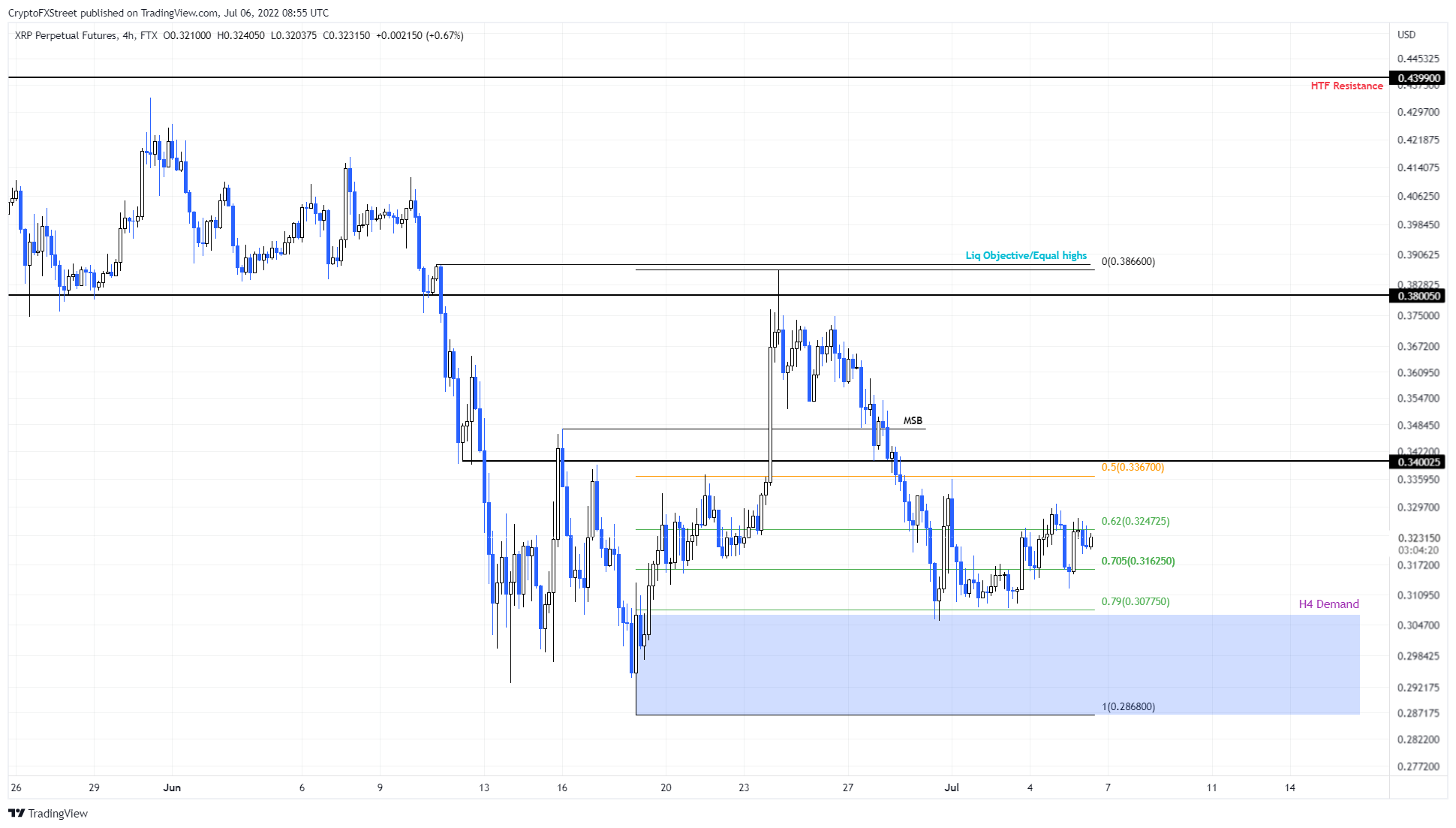 XRP / USD 4-hour chart
On the other hand, if the Ripple price produces a 4-hour candlestick below the $ 0.286 low without a quick recovery, it flips the side level to a resistance barrier. Such a development would invalidate the bullish treatise and potentially cause a further decline to $ 0.250.
..