year 2012, ripple lab (XRP) has emerged as a major player in the fintech industry, promising banks faster and cheaper international currency transactions. The company achieved this by developing the RippleNet network. This allows instant confirmation and clearing of XRP cryptocurrency transactions.
In 2020, the U.S. Securities and Exchange Commission (SEC) filed a lawsuit against Ripple Labs and its current and former CEOs. Controversy has centered around claims that the company has raised over $1.3 billion in illegal, unregistered digital asset securities issuances.
The lawsuit started towards the end of 2020 as the XRP coin was used to fund Ripple's network that allows merchants to send money. The SEC's decision to sue his Ripple and its executives for securities law violations has impacted the value of XRP. XRP, causing financial harm to its owners.
The SEC and Ripple litigation has become very deadlocked as both parties fight to maintain their respective positions. Ripple Legal has filed a petition against the SEC that criticized the SEC's allegedly unethical tactics.
Ripple lawyer John Deaton recently murmured More than 70,000 people who own XRP have joined John Deaton's class action complaint against the SEC. Among those holders, who owns the most Ripple and how many tokens do whales control? Here we look at the concentration of XRP circulating supply and ownership.
What is Ripple (XRP)?
Ripple (XRP) is an international money transfer system that works on blockchain technology. The company works with hundreds of financial institutions, including Bank of America (BAC), that use its technology. Transaction costs for XRP are $0.0002 per transaction and the network is relatively fast.
Ripple acts as a trusted third party among its users as it can quickly confirm that a transaction has been completed. Exchanges between fiat currencies, cryptocurrencies such as Bitcoin (BTC), and commodities such as gold can all be facilitated by Ripple.
Ripple is often misunderstood as a cryptocurrency. Although the Ripple network has a native coin called XRP, Ripple itself is not a cryptocurrency. An institution can instantly send and receive funds in their home currency on both ends of a cross-border transfer that utilizes his XRP as a bridge token. XRP can be used on:
financial institution: Financial institutions can use XRP to convert between two currencies, making international money transfers more efficient and cheaper.

individual: Individuals can use XRP as a simpler alternative to traditional banking to send money around the world.

Developer: The XRP Ledger provides a solid open source foundation for developers to build cutting-edge applications that have little impact on the planet's resources.
The XRP Ledger is a blockchain that processes 1,500 transactions per second. It is 61,000 times more energy efficient than Proof of Work (PoW) blockchains and is supported by a decentralized network of over 150 validators around the world.
What are your sentiments on XRP/USD?
Vote to see what traders think!
Ripple (XRP) Tokennomics
Ripple has a hard cap that limits the total amount of XRP coins that can be mined. coin market capitalization estimates the maximum supply of XRP at 100 billion.
Ripple locks a fixed amount of XRP into an escrow account and releases from 55% of the supply at predetermined intervals when XRP is issued. Ripple launched with 55 billion XRP and is now producing 1 billion XRP every month.
Any unused portion of the 1 billion XRP distributed each month will be returned to escrow and re-released in the first month without a new release of XRP.
Additionally, XRP has deflationary properties. At the time of writing, the total supply of XRP has dropped from an initial 100 billion to 99.99 billion. To avoid spam attacks, the XRP Ledger charges a small fee per transaction. This fee is burned during the trade, creating a deflationary supply.
The minimum transaction cost for XRP is 0.00001 XRP. Certain transactions, such as those requiring multiple signatures or escrow, will incur higher costs. As of August 12th, XRP had a circulation of 49.13 billion, indicating that about half of the tokens are already in circulation.
Who owns the most Ripple (XRP)?
according to coin carp According to the data, there are over 226,458 Ripple holders as of August 12th, up from 223,553 on July 14th. A more detailed analysis showed that the top 10 Ripple holders control over 73% of XRP supply.
Cryptocurrency exchange platform Binance is the top holder of Ripple, with over 36% of its supply reaching 100,897,936 XRP tokens, demonstrating that retail investors have considerable leverage over the XRP currency. .
according to forbesRipple co-founder and former CEO until November 2016, Chris Larsen, held over 5.1 billion XRP in addition to a 17% stake in the company.
Ripple's current CEO, Brad Garlinghouse, also owned a significant amount of XRP. However, Forbes did not specify the amount. Garlinghouse also held his 6.3% stake in Ripple.
According to CoinCarp data, anonymous wallets with 36,700,000 XRP tokens had the second largest holdings with more than 13% of the total supply. Given Larsen and Garlinghouse's previous cryptocurrency stakes, they may own the most XRP. However, there is no evidence that they are.
There was no data on who the other prominent XRP billionaires or Ripple millionaires were. However, this data cannot be used to infer who owns the most Ripple, as one individual may hold many anonymous addresses.
Future of Ripple (XRP)
Ripple (XRP) has not seen significant price volatility over the years due to ongoing litigation. He last hit a high of $3.84 in January 2018, according to. coin market capAt the time of writing (August 12), XRP is trading at $0.3765, making it the sixth largest cryptocurrency with a market capitalization of $18.54 billion.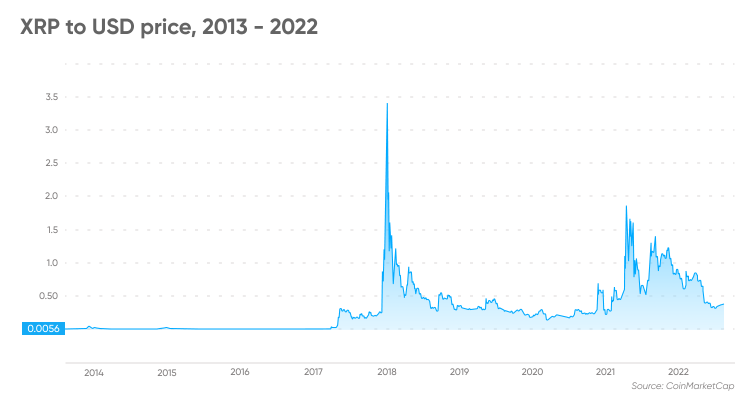 Ripple's second quarter report said it was a record quarter for on-demand liquidity (ODL), with volume growing more than 9x year-over-year. Users continue to make use of his ODL for more than regular transfers and individual transactions, with financial flows and lump sum payments contributing to his increased traffic on the network.
Additionally, Ripple is actively looking for new opportunities in the cryptocurrency ecosystem. We announced a collaboration with prominent companies Lotus Automotive and Balmain to launch a non-fungible token (NFT) on the XRP Ledger.
The company has also worked with FLUF World to create the Root network, which is connected to XRPL and bills gas prices in XRP.
Meanwhile, the defendants in a landmark lawsuit against Ripple and the US SEC are at a standstill.
Lawyer James Filan murmured The SEC has filed a one-line statement with the court.he also mentioned in another Tweet The SEC's response is a misuse of the judicial process and a waste of the court's time, as evidenced by the five-day delay in filing a one-sentence response denying Ripple's initial demand. says there is.
#XRP community #SECGov v. #Ripple #XRP The SEC has filed a one-line response to Ripple defendants' efforts to enforce Judge Netburn's ruling regarding the certification of videos of SEC staff statements. The SEC has said it will not take any position on Ripple's request for re-disclosure. pic.twitter.com/AXU0XDYhSi

— James K. Filan ?????????????????? 109k (please be careful of impersonation) (@FilanLaw) August 9, 2022
Conclusion
Ripple is a deflationary coin with limited supply and concentrated whale ownership, but the majority of the coin is held by retail investors through the Binance cryptocurrency platform.
The cryptocurrency market remains volatile no matter who is creating the most turmoil, and whale ownership data should not be used as a substitute for your own research. Always research the latest news, technical and fundamental analysis, analyst commentary and conduct your own due diligence before placing any trades.
Please note that past performance is no guarantee of future returns. And never trade money you can't afford to lose.
Frequently Asked Questions
How many XRPs are there in the world?

According to data from coin market capitalization, XRP has a total supply of 100 billion tokens and a circulating supply of 49.13 billion tokens as of August 12th. ф
Is XRP the next Bitcoin?

Bitcoin (BTC) is a digital currency used to pay for goods and services. Ripple (XRP) is a payment and remittance system for banks and payment networks. The concept of Ripple is to establish a mechanism for direct transfers of money and assets such as gold that settle in near real time. Ripple aims to be a more affordable, transparent and secure alternative to current bank transfer methods such as the SWIFT payment system. As a result, these coins serve specific use cases, vary widely in market capitalization, and become irrelevant.
Who are the largest XRP holders?

According to CoinCarp data as of August 12, Binance holds over 36% of the current supply of XRP tokens, while anonymous wallets own over 13%.
References: